We have a wide range of compression fittings and acid resistant couplings
Our range of compression fittings and acid resistant compression fittings from Serto is suitable for all our tubes. It is easy to both install and dismantle a compression fitting and we have a wide range of variants and dimensions available. If you are looking for a dimension we do not have in stock, we will of course order it for you.
Compression fitting from Serto
Acid resistant couplings and compression fittings from Serto allow a number of different combinations thanks to a wide range of both sizes and variants. Serto couplings are of the highest quality and of course corrosion resistant.
Sizes
We have acid-resistant fittings for tubes with outer dimensions: 1.00, 1.50, 1.60, 2.00, 2.50, 3.00, 3.20, 4.00, 5.00, 6.00, 6.35, 8.00, 9.52, 10.00, 12.00 and 15.00 mm.
Contact us
If you have any questions or would like to know more about the products we supply, please contact us by phone +46 (0)157-304 05 or email info@kinnvall-ab.se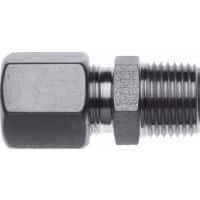 Click on the links below to view the acid-resistant range from Serto.